Within 'The Chest' is the Probate of the Will of Esther's Father – William Charlton. It is quite a large document and even has a seal. The paper feels quite waxy to the touch.
What I like most about the Will, is that unlike other Wills I have read over the years, this is the first one to divide the Estate equally between his two children: William and Esther. Esther was not only the youngest child, but she was (obviously) a girl. I think that a will dividing the Estate in this way would have been very unusual. Gender equality in 1896 – William Charlton was considerably ahead of his time!
Cover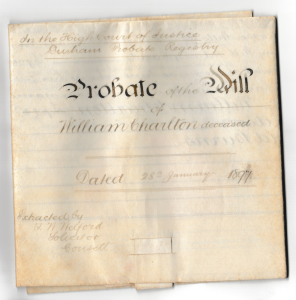 In the High Court of Justice Durham Probate Registry
Probate of the Will
Of
William Charlton deceased
Dated 28th January 1897
Extracted by J.W. Welford
Solicitor
Consett
Probate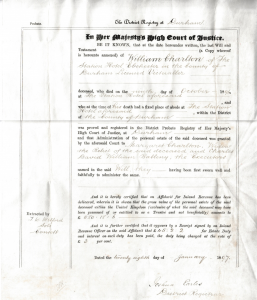 Probate The District Registry at Durham
In Her Majesty's High Court of Justice
BE IT KNOWN, that at the date hereunder written, the last Will and Testament (a Copy whereof is hereunto annexed) of William Charlton of the Station Hotel Ebchester in the County of Durham Licensed Victualler deceased, who died on the ninth day of October 1896, at The Station Hotel aforesaid, and who at the time of his death had a fixed place of abode at The Station Hotel aforesaid within the District of the County of Durham was proved and registered in the District Probate Registry of Her Majesty's High Court of Justice, at Durham and that Administration of the personal estate of the said deceased was granted by the aforesaid Court to Margaret Charlton, Widow the Relict of the said deceased and Charles David William Balleny, the Executors named in the said Will, they having been first sworn well and faithfully to administer the same.
And it is hereby certified that an Affidavit for Inland Revenue has been delivered, wherein it is shewn that the gross value of the personal estate of the said deceased within the United Kingdom (exclusive of what the said deceased may have been possessed of or entitled to as a Trustee and not beneficially) amounts to £580:18:6
And it is further certified that it appears by a Receipt signed by an Inland Revenue Officer on the said Affidavit that £45:2:2 for Estate Duty and interest on such duty has been paid, the duty being charged at the rate of £3 per cent.
Dated the twenty eighth day of January 1897
Joshua Earles
District Registrar
(side note: Extracted by J. W. Welford, Solr, Consett)
Will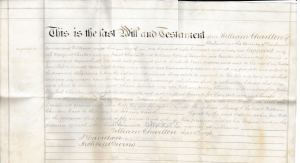 This is the last Will and Testament of me William Charlton of Ebchester in the County of Durham Farmer and Publican made this _________ day of ____________ one thousand eight hundred and ninety two. I appoint my wife Margaret Charlton and my friend Charles David William Balleny Exectutors and Trustees of this my Will I devise herein before named upon trust to pay my funeral and testamentary expenses and all my first debts and subject to the payment of the same to pay the net annual income of my estate to my wife for her life or so long as she shall continue my widow upon her death or second marriage whichever shall first happen I direct that my estate shall be divided in equal shares between my son William Hedley Charlton and my daughter Esther Elizabeth Charlton as tenants in common and not as joint tenants for their sole use and benefit I further direct that my Executors and Trustees shall not be responsible the one for the acts of the other I revoke all former and other Wills by me heretofore made In witness whereof I the said William Charlton have to this my Will set my hand _____ Signed by the said testator as his last Will in the presence of us present at the same time who in his presence and his request and in the presence of each other have hereunto subscribed our names as witnesses
William Charlton Sept 5th 1896
I Davidson
Archbold Burns