This beautiful little girl is Margaretta Caswell, she is the daughter of Esther Elizabeth Charlton and Frederick Henderson Caswell. She was born on the 2nd June 1908, in Villa Real Hospital, Leadgate, Co. Durham. Which seems quite unusual as most of her siblings are believed to have been born at home. A large portrait used to hang in the home of Esther – Balfour House, Medomsley Road, Consett – but alas it is no longer in the possession of the family.
She died on the 17th January 1914, my mum believes that the cause was diptheria, but she isn't sure so I am going to have to investigate. Diptheria is an upper respiratory tract infection which typically affects the nose and throat. Today all of my children hve been vaccinated to help prevent them from contracting this devastating disease, but back in Margaretta's time there was no such prevention available.
She was buried on the 21st January, 1914 in Medomsley churchyard, Consett. Esther had seven children in total (including a set of twins). Margaretta was the only one not to survive to adulthood.
This was her funeral card: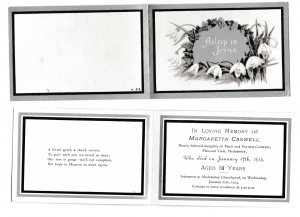 Within the chest is a tiny band of black ribbon with the initial 'M' threaded onto it. I have discovered that it is most likely an Edwardian mourning wrist band. I imagine that Esther had it made after the death of her precious daughter, so that she would always be with her.