Perhaps not the greatest photograph in the world, but it is the only one in the chest of the woman herself! The dog beside her is called Spey and she is outside of St. Ebba Church, Ebchester, Durham.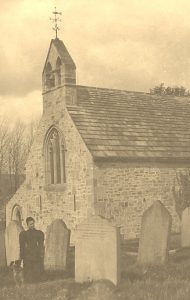 Esther Elizabeth Charlton was born on the 19th November 1875 at Ebchester Hill, Durham. She was the daughter of Margaret (nee Hedley) and William Charlton. She had an elder brother called William Hedley Charlton (b. 21st June 1872, Broomhill Durham). But she was the second Esther Elizabeth Charlton of the family. Her father had been married previously, to an Elizabeth Braban. Together they had two daughters, Mary Ann (b. 1853 – d. 2.01.1860) and Esther Elizabeth (b. 25.04.1857 – d. 19.10.1858). Elizabeth (their mother) died tragically young in 1870. William Charlton married fairly soon after his wife's death, on the 09 Mar 1871 at Benfieldside Parish Church, Durham.
Esther's father died on the 9th October 1896 (Ebchester, Durham) a few years before she met and fell for Frederick Caswell and was disowned by her family when she fell pregnant pre-marriage to a man very much below their social standing (in their opinion – so the family stories say)! They married on the 25th March 1901 (Lanchester Parish Church, Durham) and Edith was born on the 6th November 1901 (Pleasant View, Duham). However, tragedy was to befall the family. Her elder brother William died from TB on the 1st September 1902.
Esther was very much the matriarch and was very much the head of the household. She set up her sons with butchers shops and her own husband likewise. I will come back to him in future blogs!! She appears to have given all of her children an inscribed black chest in which to store their personal affects. My own grandad's (Leslie Caswell) was used to store the family Christmas decorations! But this blog relates to Esther's Chest and the contents within. But I shall start telling that particular tale on another day.