This is a photograph of Leslie Caswell (b.1906), the third child of Esther Elizabeth Charlton and Frederick Caswell. He looks a little like 'Little Lord Fauntleroy' doesn't he?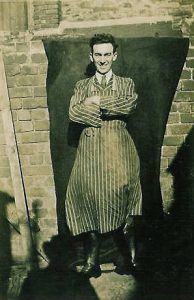 In his butcher's garb
Family stories say that when he left school he got an apprenticeship to be an electrician at the Consett Iron Works.  However, his father Fred Caswell was regularly drunk. It became impossible to bring friends over, because they never knew how Fred would behave. One day Fred came home rather the worse for drink and Esther locked him out.  Bill and his brother Leslie helped ensure that Fred was put out of the house for good. He ended up at Lanchester Workhouse. This change in events meant that Fred was no longer running the butchers shop and reluctantly Leslie gave up his apprenticeship and took over the shop. That said he was a very good butcher and had the qualification of master butcher.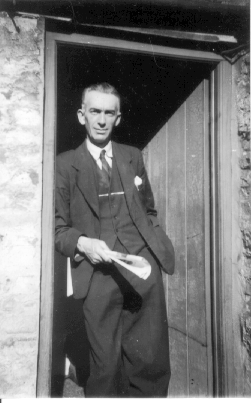 He sadly died in 1973 in Consett, County Durham.