Esther used her inheritance following the death of her mother to purchase a butcher's shop for her husband Fred. It was on Newmarket Street, Consett.
Fred unfortunately was regularly drunk, and was unpredictable in his behaviour. One day enough was enough and Leslie and Bill 'put their father out'. He was put into the Workhouse (later rescued by his sister).
Leslie was at the beginning of an apprenticeship with Consett Ironworks to become an electrician. When his father was thrown out, Esther made him give up the apprenticeship and forced him to run the butcher's shop on Newmarket Street. He did well and became a master butcher – but it was not what he had wanted to do with his life.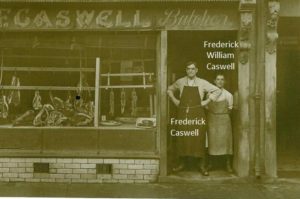 She also bought a shop for her son Frederick William Caswell (Bill) on Watling Street, Leadgate.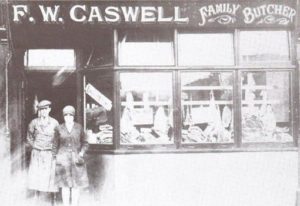 My mum recalls that when she went into her father Leslie's shop on Newmarket Street, the window was on the left. But going into Uncle Bill's the window was on the right! She also remembers how beautifully the meat was presented in the unrefridgerated window. Her father would carve the meat into pretty designs like flowers